People who know me should know that I am a dog lover. I am always searching for things to do or places to go with my dog. Below is a list of places or things I do with my dog – Cotton:


1) Cyberport Waterfront Park
The park stretches along the shoreline of Cyberport. There's a huge area for your dog to run around while you mingle with other dog lovers. You can also park your car right next to the park. This is my favorite spot to bring my dog.
2) Tai Tam Country Park
This will involve a bit of hiking. If your dog is ready to hike a bit, this will be the place for you. If you expect to see a lot of other dogs in a huge playground, this will not be the place for you.
3) The Peak
There is a private road next to the Peak Lookout, a dog friendly restaurant, that leads you to the top of the peak. You will have to do a bit of hiking before you reach the dog friendly park. You may want to try and drive your car up.
If you want to be a bit more hands on with your dog, you can take the pet grooming class they offer. The 6 hour class will take you through all the basics you need to know to groom your own pet. Other than that, they also offer massage therapy for your dog. If your dog does not sleep at night, you may want to take your dog there for a nice massage for a good night sleep!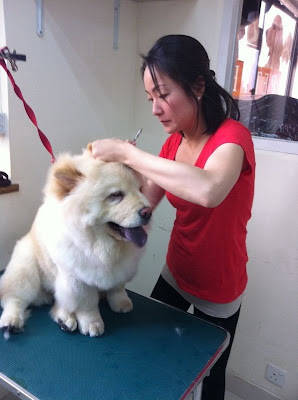 5) Dogaroo
If you have a super furry dog like Cotton, it may not be a good idea to take them out for a walk under such heat. Alternatively, you can take your dog out for a swim at Dogaroo. They offer individual swimming lessons for your dog.


6) Three Dog Bakery
Their bakeries are made with natural ingredients. Prices for cakes range from $120 – $300. They also offer cupcakes and rich, creamy peanut butter biscuits that will make you and your dog drool. Cotton is very picky with his snacks and he absolutely loved their cakes there.