Each year on Mother's Day I would always take my mom out to a fancy restaurant for a nice dinner. And this year, with the recent opening of the Ritz Carlton, I decided to take her to Tosca at the Ritz Carlton. It really wasn't easy to get a table there. I tried making a reservation one month in advance and I had to be put on the waiting list. Luckily, my friend was able to help me secure a table.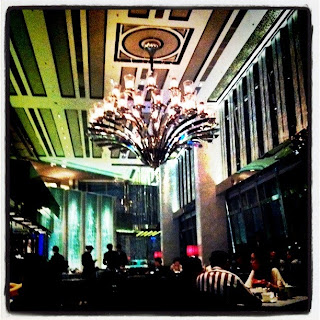 The Ritz Carlton is truely a six star hotel. My family and I were immediatly escorted to the restaurant the moment we stepped out of the car. Located on 102nd floor with an open kitchen and floor to ceiling glass panelled wine racks on the interior, Tosca has an extensive wine list with 12,000 bottles and 800 labels. The food menu is not as long. There are about 6 – 7 choices for starters, pasta and main courses.
I gave their signature starter – Roasted Kurobuta pork white polenta and aged occhiato cheese (HK$198) – a try, but I much prefer their Italian hams, melon, figs and Parmigiano "Vacche Rosse" (HK$210). The pork was a little too fatty for my taste. It is pretty much half meat and half fat. If you are not a fan of fatty food, you may want to give something else a try instead. The portion of their parma ham is actually quite big, so if you want to be able to try a few different things, you may want to share it with someone else.

Roasted Kurobuta Pork
Parma Ham & Melon
Paccheri with Scampi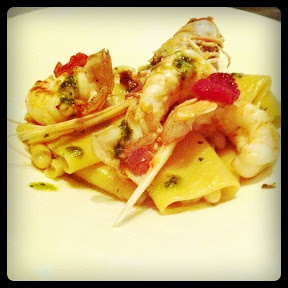 I then had their Paccheri with scampi, cannellini beans, breadcrumbs, and anchovy sauce as my main course and popped over to the chocolate bar for dessert. Despite of the great decor and service, I wasn't too impressed with their food. However, I will be going back to give their brunch a try with my girlfriends soon, stay put for the update on that!
Sorry guys, I know this post is a little late =p
The Ritz Carlton, Hong Kong
International Commerce Centre
1 Austin Road West,
Kowloon,
Hong Kong
2263 2263